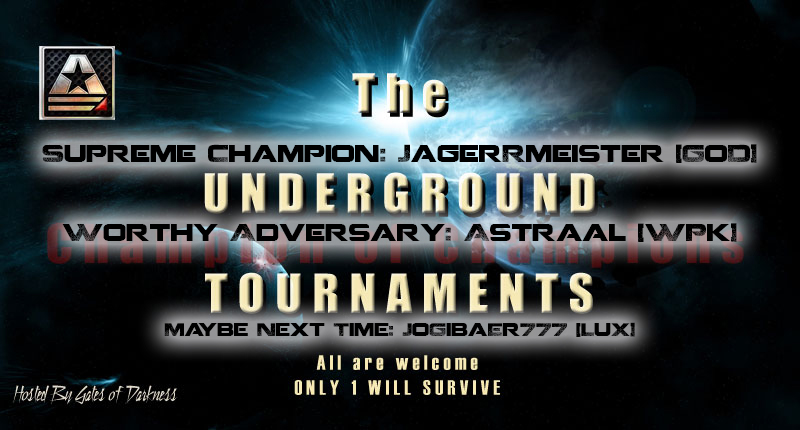 Concept : 1 vs 1 Tournament – Last man Standing – Every Corporation that enters can hold their own 1v1 to determine the Corporations Top Guns or choose their Top Guns at their discretion. Each of those TOP GUNS will be put into matches.
Every corp can sign in 3 players .
Best of 3 Matches -- First to five kills or who is ahead at the end of five minutes wins the match.In the invent of a draw,Sudden death match will be played.
Single elimination -- winner moves up loser is eliminated.
(No loser bracket, if your out then your OUT.)
Corporations will be able to have three names – If the Signed up Top Gun does not show at the start of the match,they are out.Once the tournament starts the same player must finish ( no substitutions )
1) Top Gun
2) First Alternate
3) Second Alternate
Each Pilot can bring up to 3 ships
Up to Tier 3 Ships
Players allowed to switch ship in Between Rounds.
Rewards:TBA
Sign up:TBA
Time: CEST 6:00 PM / 18.00 Belgium
         EST 12:00 pm / 12.00 East pacific
http://scut.board-directory.net/h1-countdowntimer-preview
Coming up next :